Remember last year's troll brigade?  The mass of stalkers who creeped onto my blog and began checking me out, watching my Twitter, and even found my Facebook even though I don't use my real name on this blog?
I explain the story of where they came from here.  Basically, because I posted on the Twitter of their usual target, they came after ME.
Yeah, just for that.
Well, their usual target is a fellow blogger.  I don't think I want to get into all the details here, but I thought they left me alone, only to find that they've been watching me all this time: my Facebook, Twitter and blog.
And even though they watch my Facebook, they still think I'm somebody else, ie one of their usual targets.  Which shows 1) how credible they really are, and 2) their lack of simple comprehension skills.
The other blogger has been targeted by them for three years, and even he was creeped out by what they've been up to with me.
And that's why I don't want to get into detail here: because they're apparently still watching me, and I don't want these creepy creeps "correcting" me in the comment section.  But the things I've learned–It's enough to make me feel like the universe just shifted onto its ear today.
I'm not frightened this time around, more amused, but then, it is very creepy the things these creeps have gotten up to.  Such as finding my Facebook when I don't connect my real name to my online handle.
In case they do creep in here, I'll post a little meme just for them: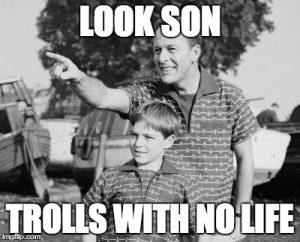 Meanwhile, my original blog stalkers, Richard and Tracy–There's been no sign of them for four months.
UPDATE 2020: I have proof that Sam is who he says he is, so the trolls can pound rocks.  He's opened up more online publicly and to me.  I will NOT post private proofs here because it's his business only to post these things and I will not violate his trust.  But publicly he now has a podcast with his girlfriend (who I've verified is a real person–and that she has visited him).