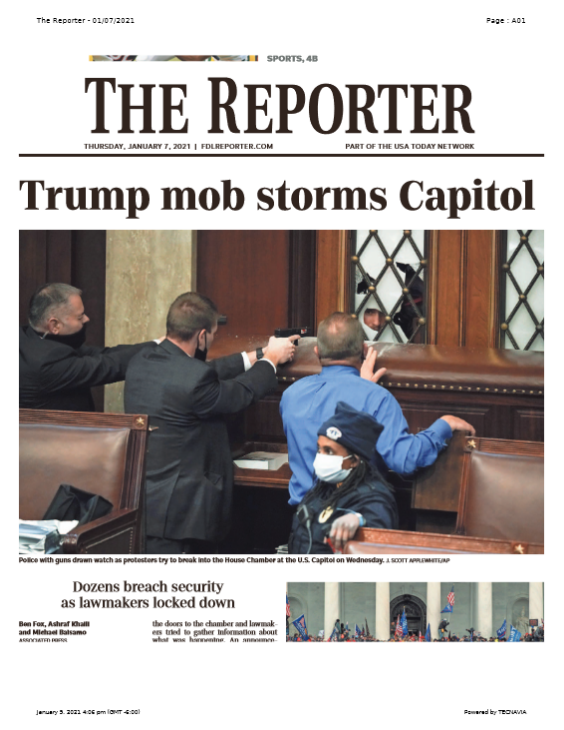 I scan the images from that day, looking for a familiar body shape and face.  One looked like him, but the next pic showed him near somebody else, so I dismissed him as too short.  Was Richard at the insurrection?  Was his buddy Chris, who has gone full QAnon?
I don't know, but I do know one thing:
I WAS RIGHT.
For years, we've been dismissed for warning about Trump.  We've been called libtards.  We've been accused of hyperbole and alarmism and "not giving Trump a chance to govern" and Trump Derangement Syndrome.  We were mocked for saying that neo-Nazis and white supremacy are a huge, dangerous problem in this country.  I was harassed and trolled by my own friends and family when I started to finally speak up.  I had to lose a few, and it looked like a few dropped me on Facebook, our only link to the outside world most of the time in this plague-ridden world.  And yeah, it makes me angry.
But we were right.  We were all right.  Dems, Never Trumpers, liberals, Independents, we were all right.  People said it could never happen here, while ignoring that it is happening around the world–What makes us so special?  Are our institutions really that secure?  Could we go the way of Venezuela or Hungary or Brazil (or Nazi Germany)?
I recently saw in horror that a narc blogger, whose blog I liked to read on occasion, totally missed the biggest narc of them all, and accused us of thinking he's a narc because of our political beliefs.  Now her blog has gone full MAGA, even after Wednesday, where she denies the truth of what happened.  She's one of those poor souls conned into thinking that this is somehow God's will.  She switched from her narc parents to the most dangerous narcissist in our country, and is down deep in the delusion, where she has become one of Trump's flying monkey army, spreading lies and Trump's smear campaign around the Net; it breaks my heart to see it.  How could she have missed all the signs after blogging about narcissism for years?  Meanwhile, other narc bloggers recognized the truth years ago.
Many Republicans are finally waking up from the Hitler-like spell they've been under.  Our European allies are horrified and, even with Biden about to take power, are backing away from letting America lead them on anything anymore.  Our enemies are mocking us, using our own words against other countries, against us.  Even our local Rep, who's been MAGA all this time, went against Trump.
I've even been listening to the Bulwark's Charlie Sykes lately, a conservative, because it's so reassuring to hear the words of the Resistance coming out of a conservative's mouth.  He used to support Ron Johnson, but that, also, has ended.  He once supported Ted Cruz, but only because the alternative was Trump–while he privately noted that Cruz is "a snake."  (That's what he called him on his latest podcast.)  It seems that as the primaries wound up in 2016, Republicans came down to a choice between the Stupid Demagogue and the Smart Snake.
Sykes warns that Cruz is setting himself up to take Trump's place; other names being tossed around by conservatives and liberals alike as dangerous, are Hawley and Cotton.  They warn that the way has been opened for smart autocrats to step in and actually succeed this time, because of all the damage our stupid autocrat has done in the last four years, even as he finally fails to hold onto power.
These people who attacked our Capitol call themselves Patriots, but they're not: They're Traitors, trying to subvert the will of the People, overturn Democracy, and set up an Autocrat.  They are modern-day Visigoths, or Confederate traitors, the legacy of our first Civil War (is another coming?).  They are our own homegrown ISIS, radicalized on the Net and just as delusional and dangerous.  ISIS and al-Qaeda don't seem to be doing much around here lately, just leaving us to burn ourselves down.
Meanwhile, Trump the Toddler is whining and tantrumming because 80 million people finally stood up and told him NO and, so far, our institutions have been holding.  But it's very disturbing to see how easily those institutions could fail, because of corruption in the people within them.  For years I've seen how the GOP has been installing corrupt people in various parts of government and the justice system.  I've seen it here in Wisconsin, which led to Scott Walker being let off when he was clearly guilty.  And now Trump's been doing it, putting the whole country at risk, not just one state.
As I wrote on this blog more than a year ago,
Because these days, supporting the Republican Party means supporting evil and the demolition of our great democracy. It means supporting racism, torture, mistreatment of immigrants, oppression of various minority groups, yanking food and health care and help away from the poor. It means ignoring cries that someone has been sexually assaulted. It means permitting persecution as long as your favored group commits it. It means forcing women to carry babies to term even when they are at high risk of dying, or the father is her father, or they'll be so poor they can't even keep a roof over their heads, while doing absolutely nothing to help those women so they don't see the need for abortions. It also means that if the 15-year-old girl does carry the baby to term, she'll now be seen as a bad sort of girl who (gasp) has had sex.

It makes me not want to hear about anyone who voted for Trump, or supported Trump or whatever.

Many of us are saying that we can now see and understand how Hitler took control of the hearts and conscience of the Germans, because we see it happening all over again in our friends, neighbors, and family.
You can find my own warnings on this blog, going back to 2015.  You can find my outrage when I saw Richard and Tracy in a newspaper photo of people working for Trump 2020.  And you can see that
I WAS RIGHT.