Late last summer, a gray tree frog fell in love with our cat Creamsicle.  She's a beautiful cat, but I never thought she'd inspire cross-species desire: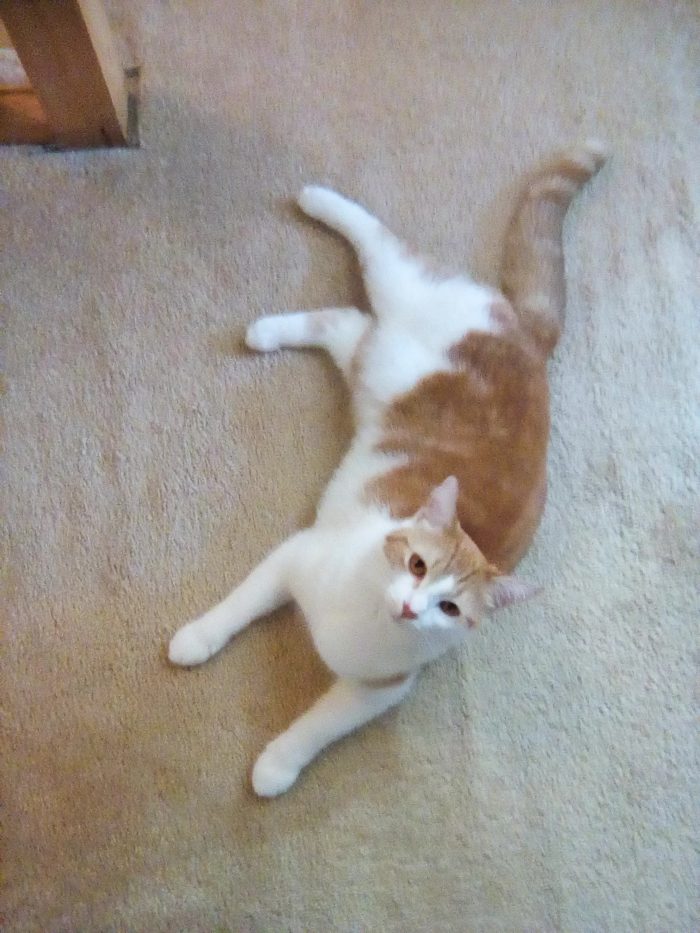 The frog looks and sounds like this:
Here are the Facebook posts I made about this last year:
Aug 28, 2018: Last night, a tiny gray frog (tree frog?) hung around on the [living room picture window] windowsill for hours. Kitty went nuts. Once, the froggie even leaned against the window [his "hand" up against the window, very casual-like] and stared at the kitty. Another time, when we were ignoring it, it made some loud chirps. I guess kitty made a "friend" (though she'd try to eat it if not for the window in between).
Sept 4: Froggie's back, staring into the window at the cat.
Sept 5, after midnight: Froggie chirped at us again, his little throat bubbling up, so I could confirm: This is a gray tree frog.
Sept 5, afternoon: Looks like Tree Froggie left a big present on our windowsill last night. ?
Sept 6: We found Froggie hanging on the screen last night by the usual window. Kitty went crazy, batting at the window until he hopped onto the sill. (The window was closed.) The noise he made the other day while looking at the cat–that's a tree frog mating call. I may start calling him Kermit for his inter-species crush.
This is actually unrelated, but another cute sight from Sept 6: Saw a fox on the trail today, playing in the sun, rolling around in the dirt, lying in the sun. But he saw me and off he went.
[Which reminds me of what the local newspaper posted on Facebook recently:]
https://www.facebook.com/watch/?v=527621554431071
Sept 8: We haven't seen Froggie for a couple of nights. The kitty keeps looking, too. The mowers came through Thursday, so I really hope they didn't get him.
Sept 12: We haven't *seen* Froggie for a while, but we keep hearing that chirp nearby.
Sept 15: Froggie's back, and oh, is Kitty excited.
Then fall/winter came and Froggie went away, hopefully just to hibernate.
But now I keep hearing a familiar sound around the house….Could it be Froggie?