Seth Abramson's Proof of Conspiracy: A review
I just finished reading Seth Abramson's Proof of Conspiracy: How Trump's International Collusion Is Threatening American Democracy.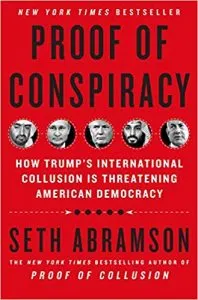 Seth Abramson has become known for posting looooong Twitter threads (I believe one had about 100 posts) on politics of the day.  In order to share them on Facebook, I had to resort to the Thread Reader unroller app, which turns long threads into blog posts to make them easier to read.  But of course, while what he says is shocking, you've gotta wonder how reliable it is.
So I picked up the Kindle version of Proof of Conspiracy, which came out just a few months ago, so I could check into this.  Contrary to the spin by the GOP, Abramson argues that the Mueller Report proved both collusion and conspiracy (this book is in tandem with a previous book, Proof of Collusion).  And since I've read the Mueller Report, along with documents and analyses, I can confirm Abramson's conclusion.
Publishers Weekly writes:
[Proof of Conspiracy] alleges a 'Red Sea Conspiracy' hatched in 2015 by Crown Prince Mohammed bin Zayed of the United Arab Emirates and then Deputy Crown Prince Mohammed bin Salman of Saudi Arabia. Their plan….was to illicitly help Donald Trump's presidential campaign in order to gain his support for a 'grand bargain' that would end U.S. sanctions on Russia in exchange for Vladimir Putin's help in evicting Iran from Syria, pave the way for dozens of new Saudi and Emirati nuclear plants, and forge an anti-Iranian, pro-Israeli military alliance among Sunni Arab nations….[CNN analyst Abramson] traces labyrinths of murky 'ties,' meetings, and business deals….[and offers] serious criticisms of Trump's foreign policy, including his support of the Saudi regime's brutal war in Yemen.
Over the past several weeks, I've been working through POC, finally finishing last night.  Right about the time I started it, Trump pulled troops out of Syria–and I began to see, right before me in the daily news, eerie confirmation of things I had only just read in Proof of Conspiracy.  Not just regarding Syria, but other issues as well that started coming to light during the impeachment inquiry, allegations being corroborated by witness testimony.  Names in Proof of Conspiracy started showing up in the news.  We learned new names as well, which traced back to and confirmed claims made in Proof of Conspiracy.
Another way to confirm the claims of the book is the extensive bibliography, which was a PDF posted on the Web instead of in the Kindle book.  I also downloaded it onto my Kindle, where I could click on the links and verify the articles whenever I felt the need.
Then at the end of the book, in the acknowledgements, I discovered that Abramson relied on four fact-checkers.  People complained that Michael Wolff didn't fact-check Fire and Fury, making it unreliable, so it is a relief to see that Abramson did not repeat that mistake.
And what are the claims of the book?  That Trump's presidency has not just been a series of blunders, but that Trump is being manipulated–through his greed and desire for power–by leaders of several Middle-Eastern countries in a Red Sea Conspiracy.  Every day, the news confirms that this isn't just some wild theory.  It certainly explains the Putin and MBS high-five at the G20 last year, while Trump looked on jealously.  It helps explain why Trump would withdraw troops from Syria, to the objections of pretty much everybody, even his attack dog Lindsay Graham.  It also explains why Mueller said Israel–one of our closest allies–is threatening our 2020 election integrity.
Abramson notes how overwhelming it is for Americans to try to keep up with the news when there are so many different sources and so many stories; his book helps by pulling together those stories that most of us probably missed in our busy lives.  I certainly learned a lot of things that were covered a year or two ago in the media, but I missed, despite constantly checking the news since Trump was elected.  Abramson writes on page 561,
At the end of December 2018, the United States for the first time in its history became one of the five most dangerous nations in the world for journalists. We cross this dark threshold at a time when the nation's journalistic ecosystem simultaneously produces too much quality investigative reporting for even the nation's best analysts to synthesize; too little accountability for corporate journalism that places profits above ethics; too many stories where commitment to evenhandedness masks an unwillingness to render conventional journalistic and even moral judgments about truth and falsehood, integrity and moral degradation; and too little attention for innovations in the journalistic enterprise that might allow the profession to survive, even if generatively transformed, amid the bewildering transfigurations of a digitized and increasingly virtual (if too rarely virtuous) world.

…The New Yorker quotes Tamir Pardo, the director of Israel's chief spy agency Mossad from 2011 to 2016, as saying of the Russian election-interference operation in 2016—which appears to have received significant assists from Israeli, Saudi, and Emirati entities—"It was the biggest Russian win ever. Without shooting one bullet, American society was torn apart." Yet U.S. media still spends more time dissecting Trump's tweets than seeking to curate the hundreds of major-media investigative reports from around the world that confirm that it is Trump who is, piece by piece, dissecting our nation's foreign policy and domestic institutions.
This, by the way, also confirms a Facebook post written several years ago by a Ukrainian American friend I met on an Orthodox forum many years ago.  After the invasion, he wrote that it wasn't just about Ukraine, that Putin would eventually come for us as well.  He thought it would be a military invasion, however, so a few weeks ago, I told him he was right–except that Putin had a much more clever way of toppling us.
Abramson writes on page 546,
The question, of course, has never been about what Donald Trump can or cannot resist. Rather, it has always been about what a society that values the rule of law is willing to tolerate. And more recently—since November 8, 2016—the question has been an even more dire one: What happens to a nation when it not only tolerates the worst excesses and degradations of the human condition but celebrates them? What happens when a once-great nation makes of its very worst instincts and proclivities a shudderingly grotesque political and cultural idol?

…What we find when we train this sort of lens on a man like Donald Trump is that his desire to rule has always been co-extensive with his desire to accumulate. Indeed, the fact that, as president, Trump now wants to combine diplomacy with business—even if it threatens America's national security—is clear.
In short, I recommend this book if you want to understand the strange events that keep going on in our nation and world these past several years.  It is also a warning of why we can't afford to be complacent about politics in this country.
[Update: Shortly after I posted this, the author himself saw it and retweeted it, which made it go viral.  🙂 I can barely keep up with checking my stats….]