text and pictures copyright 1995 
At the time of Beltane, near dusk, Goewin, daughter of Duncan, a young bard, sat on a tree stump to play her flute.  She was a fair maiden with golden hair and sky-blue eyes, and driven to play music on her whistle.
But, though certainly not destined to be a king, she had been given a personal geas by a druid, the seer who foretold her musical ability when she was born: She was not to play any song that would make herself cry.  Because of this, she was known throughout the land for her cheerful music and jigs, and never played sad songs.
(A geas is a taboo; breaking it brings death or dishonor.)
"Brigit, give me a poem," she said on this day of Beltane, "something to play my music to."  Brigit was patron to poets.  Words began to flow from her mouth:
I saw my love on the field,
Newly back from war;
His sword shining in the sun,
His helmet gleaming,
Three heads hanging from his horse.
"Where is my brother Cadwallader?" he said
As he alighted from his horse.
I said, "He went to a feast
An hour past the time,
And therefore lost his head.
"There was great rejoicing when he died.
Whether rejoicing from the mead or dislike,
I do not know!"–"No matter," said my love;
The land is better for his loss!"
–And there Goewin stopped.  She couldn't think of how to go on, so she decided to wander around the fields and wait for inspiration.  In a wood, she saw a small shape flitting around.  Curiosity overcame her, and she followed it to discover what it was.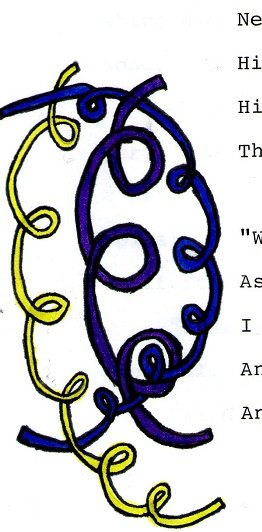 The shape disappeared near a fairy mound.  Goewin had never seen such a mound before.  She'd heard about them, but with her mind so full of her poem, she didn't recognize what this was.
A blackbird flew over and perched atop the sidhe (fairy mound).  Goewin said to it, "Is this mound meant to give me my song?"  It began to sing, which she took as a sign.  She sat beside the bird, which didn't fly away, and began to play and to work on her song.
As she played, a beautiful, tiny young woman appeared before her.  She had slanted eyebrows and eyes, eyes of blue-green, a pointy nose and a small mouth.  Her hair hung in red-gold spirals.  A golden torque was around her neck, and her dress looked as if made of silken leaves.
"Your music is enchanting," she said, "and light and cheerful.  We have heard it within the sidhe."
"Within the sidhe?" Goewin cried, finally recognizing the fairy mound.  Then hands reached from behind her and grabbed her.  The fairies carried her off and into the sidhe–their home.
So Goewin entered part of the glorious realms of the Otherworld.  At first she was frightened, but the fairies made her feel at home.
Elva, the beautiful elf with the red-gold hair, being the daughter of the king of the elves, gave her the title of chief bard to the fairies.
Goewin played for them as they desired; her happy and beautiful songs delighted them.  They had her play as often as she could without getting a sore throat or a light head, and nursed her throat so she could sing for them as well.
Goewin found her home to be the sidhe.  Here was a place more wondrous than she'd ever imagined.  The sidhe looked so small from the outside, but within it was the kingdom of Elva's father, Aubrey.  Goewin composed more lyrics within the sidhe:
An honor 'tis to be bard to the elves,
Fed by fairies, nursed by nixies.
Wander the world and you won't find
The wonders of the Otherworld.
Birds of all types, birds with purple feathers, peacocks–
They flit here and there and sing with my flute.
Gold houses and a copper castle,
Green, fertile fields that know no blight.
No sweeter music is ever heard than this of the birds;
No sweeter song than the ones the gate-tree hums to you.
Tree of glass, topped with green glass leaves,
Gives you shade from a sun of gold.
And at night, a silver moon shines.
It shines on the doors of lapis lazuli
At the east, the west, the north and the south.
It shines on fairy feasts and dancing.
I go to a feast, with tables laid
With wine, pork, mutton and bread.
The elves cover me with silken, leaf dresses, yellow and blue and red;
They give me jeweled torques with gold and red gold, laurels for my head, a gold branch for my hand.
As I play, the elves dance in rings in the fields,
Little lights leaping in the moonlight.
May Day every day
That they choose.
An elfin poet named Brí, son of the chieftain Bran, soon caught Goewin's eye–a goodly youth with hair like flax and eyes of sea green, a long nose, and muscular arms; tall for an elf, but not gawky.
His eye was keen like that of the eagle that perched on his shoulder, little Craig as he called it.  Brí wore a leaf tunic, leather shoes and a magnificent tuigen (poet's mantle)–the lower part made of swan skins, the neck of a swan hanging down from the collar and down the back.  In his hand he carried a gold branch.
Though Goewin's own tuigen was made all of swan and her dress was made of the finest silk leaves, this tuigen made her eyes widen.  Here was a chief poet, worthy of her; whenever she saw him, her songs turned to love ballads.  She hoped to work a kind of love charm on him through her music.
One day, Goewin saw Elva gaze after Brí when he passed by, and heard a sigh that showed she loved him, too.  Goewin knew it would be risky to compete with Elva, but she had never seen so worthy a youth as Brí.  She would fight for him, even with the daughter of the king of the elves.
Elva soon realized she had a rival, and that her rival was preferred.  This enraged her.  One evening at a feast, as Goewin played and the fairies danced, Goewin began singing a love song.  It described Brí, though it did not name him.  Brí recognized himself in it, and danced over to her.  After the song, he kissed her.
Elva leaped from her purple glass chair, rage in her eyes, and said, "I invite you to my father's kingdom, and this is how you repay me?  You steal the man I wanted to make my husband!"
"No one, mortal or fairy, will do such a thing to my daughter," King Aubrey said.
"Banish her forever from the sidhe, father!" Elva said.
"So I shall."
He called over a black horse, which carried Goewin out of the sidhe and dropped her onto the ground.  She began to sob when she saw the horse disappear into the mound, and the entrance hide itself from her.  Her silken clothes turned to the frock she'd worn before entering the sidhe.  Her head and throat ached with tears.
She found her way back home, and discovered that what had been months to her, were centuries to her people.  Her family and friends had long since died and turned to dust.  She ran back to the mound, all alone in the world, separate from Brí and even from the world of the sidhe.
She calmed herself and sat top the mound as she had once before, and began to play her flute.  She hoped to comfort herself with music, but played along with her grief, until she began to play a melancholy melody.  She composed lyrics for it in her mind:
Gone, gone, all are gone;
All my life has gone with them.
My family's gone, all from the earth;
I can look, but never find them.
I've seen their tombs.  My house is crumbled.
The people have all forgotten me.
Goewin daughter of Duncan, who is she? they say.
My cheerful, charming melodies have not survived.
I am the chief poet of the elves!
Or I was.  And my songs have gone with the wind to the Cailleach.
Oh, the agony of being forgotten as if I'd never been.
The elven world is closed to me–
My love is exiled from me.
No more shall I play for the elves–
For the fairies who loved me,
For palaces of purple glass,
For trees that hum my tunes.
I'll die before a day is gone for them,
And I'll be gone–gone–forgotten
By the elves I made happy–
And here a tear fell from Goewin's eye.
Thus Goewin daughter of Duncan broke her geas, and died.
Her body lay over the mound, and Brí carried it off to bury it.  Elva felt terrible about her death, and allowed the fairies of the sidhe to mourn for her.  In time, Brí forgave her because of her abject heart, and after a year they married.